Pottery tradition since 1906
Ceramics made in Spain
Alfarería y Cerámica León S.L.
ARTESANÍA LEÓN is a factory of pottery and artisan ceramics of great familiar tradition that goes back to four generations of potters.
It was founded under the denomination of «Artesanía León» on 1970 by Diego Leon del Río, that worked like a partner in the inherited familiar company of its parents, who simultaneously had inherited it of their ancestors.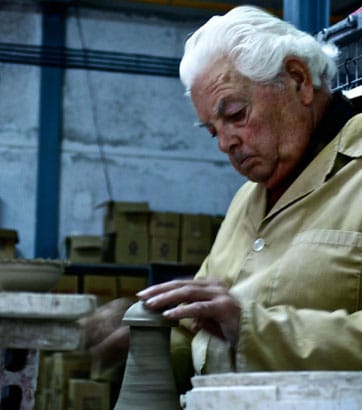 Alfarería y Cerámica León S.L.
Creates his own designs of pieces, decorated by hand, always experimenting with new materials, clays or enamels, and lending the maximum interest in the finished ones, thus to be able to offer the best quality.
Our ceramic ware items are hand-decorated and comply with the relevant sanitary regulations.
New tableware designs guaranteed by our health registry.
Great variety of hand-painted decorative ceramic plates, vases, lamps,…
Kitchen utensil used to finely chop solid foods, such as fruits, vegetables, stale bread and any more.
Market brushes and peelers.
Details of the process of making our ceramics
Our sanitary registry guarantees the usability of our products for domestic use.
All our pottery is decorated by hand and is made with an exhaustive quality control.
Our products are native, manufactured in our facilities.
Hand-painted ceramic pottery
Discover our handmade ceramic collections. See the different decorations made by hand and the various shapes of our pottery and ceramics.